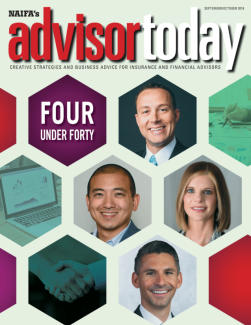 KATHLEEN OWINGS, LACP NAMED "FOUR UNDER FORTY" BY NAIFA IN 2018
From Officer to Advisor: The time Kathleen Owings, LACP, spent in the U.S. Army is serving her well as she helps clients prepare for life's many uncertainties.
Source: Advisory Today
Not many people think of the U.S. Army as a training ground for financial advisors, but this venerable institution has produced its share of top financial talent. Take the case of Kathleen Owings, LACP, a decorated veteran and financial advisor, who is scaling new heights in the financial-services industry.
"I am frequently asked about my career progression from the Army to the financial-services industry," Owings says. "These seemingly unrelated professions actually share many underlying values. As an officer, I served the nation and my soldiers with trust and integrity. These values lend themselves well to building client relationships based largely on trust. Both professions require meticulous planning, thoughtful design and flexible execution."
These values are at the core of what she learned while attending the United States Military Academy at West Point, New York and later serving as a Corps of Engineers officer in the U.S. Army. West Point laid the groundwork for her development and growth as a leader, while her service as an officer trained her to build and develop effective teams.
"The bills and laws that are being enacted can have a tremendous impact on all of us, and I would rather participate in the process than merely question the outcomes."
— Kathleen Owings
"Not only did I learn about my own strengths and weaknesses, I also interacted with many people from different backgrounds and life experiences," she says. "This has helped me tremendously in this business, working with so many people and understanding the emotional intelligence aspect of our industry."
"Also, my unique background has equipped me with skills to assist my clients when they are faced with difficult financial situations or tragic life events to have a financial partner they can rely on for support and guidance. In addition, I have a deep desire to serve, which comes from my time in the military."
With this deep desire to serve, Owings entered the financial-services industry in 2007 and started working as an agent with New England Financial. In 2014, she and her business partner, Peter Horwitch, started Colorado-based Westbilt Financial Group, after they had affiliated with an independent broker-dealer. Between the two of them, they have 45 years of industry experience.
Their practice specializes in comprehensive financial planning for individuals, families and small-business owners. They help clients find the right protection products, such as life, disability and long-term-care insurance. Additionally, they collaborate with an independent health insurance broker, and help small businesses implement group retirement plans and benefits.
As she works to provide these services to her clients, Owings does not consider what she does a task; in fact, helping clients is one aspect of the job she finds truly gratifying. "My "why" in this business is helping those clients who feel they lack direction or do not know where to start," she says. "Working with them, my firm is able to create a plan that enables them to have a clear path forward and to sleep better at night."
Owings also loves what she does because she considers herself a problem solver by nature. "I enjoy the process of helping our clients identify and prioritize their financial challenges and goals," she says. "I have learned that on their own, financial planning for most people can be overwhelming and unpleasant; so, they don't give it much thought. Our clients' "why" is at the core of all our plans. Our planning process engages them to understand their wants, needs, and desires for their financial futures. We want them to walk away from the process having felt, heard, and gained a clear picture of their financial situation."
Such dedication to her clients has earned Owings numerous honors and accolades. She won a Rising Star Award for community service in Colorado Springs, and a Circle of Excellence Award by Women in Insurance and Financial Services. "Both of these are equally important as they reflect my service to my community and dedication to my clients," she says. "I have always been a hard worker and dedicate 100 percent of my effort to whatever task is at hand. I find that the work I do to help others comes back to me tenfold." Advocating for the industry Side by side with Owings' passion for helping others is her love of political advocacy. She has always been fascinated by politics and the political process, even at a young age. In high school, she served as a Congressional Page in the U.S. House of Representatives. Since then, she has served as a local and state delegate during several election cycles. And when she discovered that her passion for politics could help NAIFA, she decided to advocate for the industry and her clients.
"I believe it is extremely important for every agent and advisor to get to know their elected officials at all levels," she says. "I challenge you to participate in your state or the national day on the Hill and observe the process firsthand. You will not be sorry you did. I feel that it is my duty to be part of the legislative process and also be a voice for my clients. The bills and laws that are being enacted can have a tremendous impact on all of us, and I would rather participate in the process than merely question the outcomes."
Last year, she testified before the Colorado House Public Health Care and Human Services Committee representing NAIFA and its position on the "Protect Seniors from Financial Abuse Bill." At the same time, she was part of the NAIFA Government Relations team that worked with the Colorado Securities Commissioner and the legislators who were running the House bill that ultimately passed.
Owings is proud to use her advocacy skills for NAIFA, which she joined in 2011 after the Colorado Springs NAIFA association president gave a presentation about NAIFA and its benefits to her agency.
"When I looked around the room, all of the successful agents were NAIFA members," she says. "So, I decided I wanted to be like them. Not only was I excited about the benefits and networking opportunities that NAIFA would provide, but the president also identified the need for advisors to become involved in the political process. I responded by providing perspective, persistence and most importantly—passion. I joined NIAFA to develop myself as an advisor and to be a voice for our industry."
Owings has served NAIFA both at the local and state levels—from acting as the Colorado Springs NAIFA Association APIC chair to serving as the Colorado Springs NAIFA Association president. She is now the Colorado State NAIFA president.
"NAIFA to me is so much more than just an industry association," she says. "The members have become part of my family. This can be a lonely industry if you are a solo practitioner or owner of a small firm like ours. NAIFA provides me with a sense of camaraderie. I know that help is only a phone call away."
"It is pretty amazing to think that we are all competitors; yet, my NAIFA friends have been so supportive and open to sharing ideas," she adds. "NAIFA operates in a truly collaborative environment that allows us to share best practices, which enhance our practices and our client experiences."
Like a true NAIFA member, Owings does not hesitate to share her best- practice tips with others. When asked for some of her success strategies, she quickly offers the following: "I have found that financial planning and clientfacing interactions are the activities that make me the happiest. These are what I call my "green light tasks." I would advise young agents to identify their green light tasks and go after them." There will be red light tasks as well, she adds, which are those they do not enjoy doing, or those at which they do not excel. They can partner with another advisor to fill those gaps. If they can't find a more experienced advisor on their own, they should seek experienced advisors through their local NAIFA associations.
Other steps advisors can take to move ahead:
• Follow your passions. "I allow my passions to guide me and help me decide where I place my energy and efforts," Owings says. "When I bring passion to any project or task, I know it shines through and energizes other people around me."
• Set big goals and you will be amazed at what you can achieve. Owings says that she can look back at many instances in her life when the odds seemed insurmountable, but she began those journeys with one step. "I set goals for myself and I'm determined to achieve them. The great challenges in my life—from graduating West Point, to completing U.S. Army Airborne School, to reaching the top of Pikes Peak—were accomplished through positive perseverance. These milestones have become the foundation for my future success."
Community service has always been important to Owings. Giving back to her community complements her work with clients and amplifies her dedication to serving others. For the past 10 years, for example, she has served on the Board of Trustees for the Pikes Peak Library District. She has also worked with the Peak Military Care Network, which connects the community's military service members, veterans and their families with resources provided by their community partners.
And knowing the importance of maintaining a healthy work/life balance, Owings makes sure she spends time with family and friends. In the winter, she, her husband and their daughter love to downhill ski. She and her husband are also avid runners, and for the past two years, they have completed the Pikes Peak Ascent, considered to be one of the world's hardest half marathons.
"Running inspires me to get out there every day and try my best," she says. "Some days are better than others, but I know that each step I take, I get better. It is much like our business, in that small baby steps lead to monumental achievements over time, but success requires patience, persistence, tenacity and grit."